Shadowbanning means that the post is published and the author does not receive a warning or any disciplinary action, but most users can't see it, so it generates no traffic. The poster isn't outraged at being censored, he is simply demotivated by believing that his audience is not interested. Shadowbanning is very hard to prove if done right: show the content to his friends and devout followers and hide it only from strangers and independents.
Trump supporters have a Reddit forum "The Donald". The CEO of Reddit was caught and forced to apologize because he edited the comments of users. He promised it won't happen again and technically he kept the promise, I didn't catch him editing comments. But I caught them shadowbanning.
I've found something that I believed can interest Trump supporters who are … not the greatest fans of CNN. CNN "reporter" Clarissa Ward made "hearthbraking report of the suffering of Syrian people at the hand of Assad" (Al-Qaeda propaganda). She also addressed the UN security council because random journalists often do that. The problem with her "reporting"?

On the left there is her in a territory "under the brutal oppression of Assad". On the right it's also her, in the land "liberated by the rebels" (Al-Qaeda). Well, a picture tells a thousand words which part of Syria is more free. Since I'm not busy reading CNN propaganda pieces, how did I find this gem? On the twitter of a Lebanese Christian journalist (I've found her on the twitter of Ann Coulter). Here is another good Clarissa Ward meme: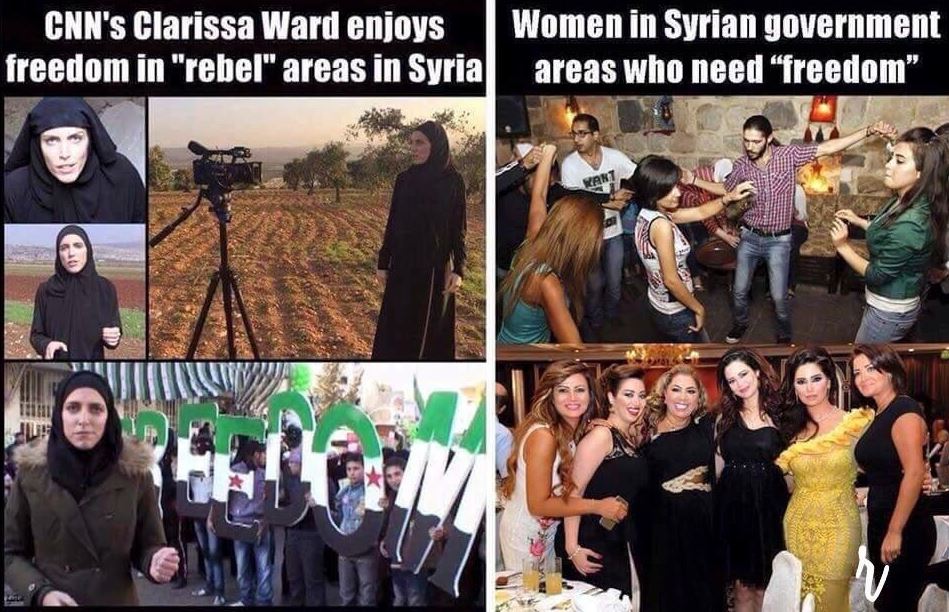 Anyway, I made a reddit post about it, linking the twitter post linked above – and I received no votes or comments or whatnot. It seems like a dud, people don't care about such thing, right? Well, having my time with game developers, I instantly thought the alternative: the post is being manipulated. And indeed I couldn't find my post on r/The_Donald/new despite repeated F5s. So I posted it again, but this time I didn't link the twitter post, instead I saved the photo above and posted it under the same title. Well, it wasn't a huge hit either, but it received 48 upvotes, so people indeed seen it.
I'd like to stress that the original post wasn't formally banned, it's still there and it's right there on my post list:


Why was I shadowbanned? I wasn't, there is no point banning a throwaway reddit account. It's Sarah the journalist who is shadowbanned. Random guys posting memes won't convince independents about politics. No one will vote for Trump in 2020 because of a "God Emperor stared at the sun and it hid behind the moon" meme, so such activity is harmless. But actual journalist working locally finding facts is dangerous, so her content must be hidden. So when I linked one of her posts, my post was shadowbanned, to make me think that facts are uninteresting according to "my peers" and go back posting guns, girls in lingerie and Trump baseball hat and screenshots of bizarre posts of raging feminists.
Reddit is running an operation to "defang" the Trump supporters, deny them useful information that they could use to convince their real-life contacts and make them waste their time with "feel-good" memes and post crap that makes them look like a childish cult instead of a political movement.
PS: I'm not entirely innocent about that "childish cult" thing.